May 14, 2005
The NYC Connection: Virtual Central Park
Columbia Journalism Students Launch "Central Park: Core of the Big Apple"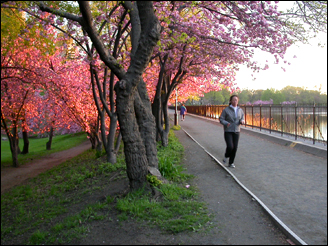 An expansive Web magazine about New York City's oldest, biggest and most-loved green space, Central Park, was launched this week by students of the New Media Workshop of the Columbia Graduate School of Journalism.
NYC24
is written, photographed, videotaped, designed and produced by students in the advanced media workshop, and documents "everything you need to know about Central Park, from how much a hot dog costs at Sheep Meadow Cafe to how many bird species reside in the park."
Kids, weddings, skateboards, Broadway stars, edible plants and squirrels – "Central Park: Core of the Big Apple" covers all these things and more while presenting a colorful tribute to the oasis at the center of the city.
For the past month, 17 students explored Central Park, interviewing the park's inhabitants, photographing daily activity and inactivity in the park and exploring its history.
Contained within the web-zine are original features about quirky and unusual people and places in Central Park, such as "Wildman" Steve Brill, who forages the park for edible plants and wildlife, scenes from movies filmed in the park, Broadway stars playing softball and captivating footage of park roller skaters, runners and performers. A unique, interactive photo essay documenting a full day in the park, from sunrise to sunset, is featured with 55 stunning photographs of Central Park life from April 29, 2005.
Even native New Yorkers and Central Park diehards will learn something new.
For more information visit
Columbia Graduate School of Journalism
or check out
www.nyc24.org
.