March 29, 2005
Grieving For Grace: Local Rock Band
GREENLIGHT LONG ISLAND INTERVIEW
by Derek Grosso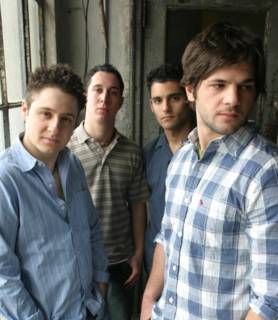 Grieving For Grace is (from left) Jay Miller, Brett Stephani, Rob Fleming and George Montenes. Jay is on lead vocals, and plays guitar and saxophone; Brett also rocks the guitar, vocals and synth strings; Rob leads the rhythm section on the drum kit; and George rounds out with bass guitar, vocals, auxiliary percussion, and trumpet. Jay and Rob met in the Sycamore Elementary School jazz band. Then in high school, George came along. The trio had been playing jazz together for some time with band director John Leddy. It was after high school that the three began playing rock. Grieving For Grace was born in December of 2002. About a year later, they found Brett when he was shopping at Jay's workplace -- Alan Howard Sherman's Piano Outlet in Medford.
Where were you all born and where do you currently reside?
Brett: My hometown is Patchogue, but I currently live in Mastic, NY.
Jay: I live in Bohemia and I was born at North Shore Hospital.
George: Right now I live in Ronkonkoma, NY.
Rob: We're all Long Islanders. I was born on the Island.
What is the significance of your name, Grieving for Grace?
Rob: It took us so long to find a name...
Jay: The loss of innocence and the acceptance of adulthood.
Rob: Since the time of the ancient Greeks, the "loss of innocence" theme has been used so often in popular literature. The idea is that everybody has to experience some kind of tragic "fall" and abandon the grace of childhood before entering the "real world."
What genre of music does the band identify with the most?
Alternative/Modern rock
Tell us about what can be found on your upcoming album, and how is it different from your last CD, "The Things You Thought Were Real?"
Rob: [laughs] The music was mediocre at best, the quality was horrendous.
Brett: It's like night and day.
Jay: Better written songs, better production.
So what is in store for GFG fans in 2005?
Brett: Lots of great, new material.
Jay: New songs, great performances, better venues.
Rob: I think this is going to be a very good year for us. Things finally look like they're moving along. We've met so many great people that have helped us tremendously.
What's the best thing about being in a band?
Brett: I'd have to say free beer. Sometimes.
Rob: [laughs] There's nothing like being on stage.
Jay: Performing original music.
What's the worst thing about being in a band?
Brett: Driving to band practice, because that's a long way for me...
Rob: How about driving to Manhattan in a blizzard?
Jay: Having to bring all our equipment to the shows.
What's the wildest place you've played a show on Long Island?
Jay: Our 2nd show ever -- at Chili Pepper's Pub. [laughs] It was a bizarre night.
Rob: Yes, it was the infancy of GFG.
What is your favorite restaurant?
Brett: Applebee's
Jay: We take advantage of Applebee's.
Favorite website?
Jay:
PRSguitars.com
Brett: I don't really have a favorite website.
Rob:
www.GrievingForGrace.com
Favorite word?
George: Foil
Rob: Leeds
Favorite exit on the L.I.E.?
Brett: Exit 57-Vets Highway. It's closest to band practice.
Rob: The last one. I love Eastern Long Island.
Favorite local sports team?
Brett: I don't really give a sh*t.
Jay: Can they print that? My favorite team of all time is the NY Jets.
Favorite place on Long Island?
Brett: Longwood Estate -- It's a very old house. It's pretty neat. I've heard noises, like little children laughing, but there was no one around when I looked. The place has been there since like 1630 or something. I think it's haunted.
Jay: I'd have to say the Arboretum in Oakdale.
Rob: Maybe Shelter Island.
Historic figure you would most like to meet, living or dead?
Rob: Either Rasputin or Jim Morrison.
Who are some of your musical influences?
Jay: The Goo Goo Dolls, The Beatles, and Third Eye Blind have had the greatest influence on the writing of our music.
Rob: I've been heavily influenced by the work of the Dave Matthews Band's percussionist, Carter Beauford, as well as Radiohead's experimental stuff. John Densmore (percussionist from The Doors) has also had an effect on my performance.
Brett: John Mayer, John Petrucci, Al Dimeola and Pat Metheny.
George: The Jimi Hendrix Experience, Bob Marley and the Wailers, and John Mayer's bassist, De La.
Most dynamic duo, real or fictional?
George: Lennon and McCartney
Who would you like to see run for President?
George: Junkyard Dog
Rob: Who is Junkyard Dog?
Jay: I don't know man. A wrestler.
You can play a gig anywhere in the country. Where is it and give us the details.
Jay: Jones Beach. I've been going to concerts there for years and I've always dreamed of playing there.
What has been the band's greatest/proudest accomplishment thus far?
Jay: Working together on great music with our talented awesome producers and managers.
What makes Long Island special?
Jay: The beaches, the bars, and the eastern end of the island.
Rob: The history. Most people don't realize how much history is here. Open a frigging book, man!